The biggest dream of every veterinarian is opening and managing his/her own private clinic and build a career by own terms. Young and aspiring vets sometimes lack the self-confidence and experience to be their own bosses right after graduation, but in time they overcome this obstacle.
And no matter how satisfied you are with your current working position, the spark for having your own private practice will always trigger exciting emotions.
You already have enough knowledge and practice, and most of the clients you know see you as a dedicated professional that helps them solve ordinary and no ordinary problems with their animals. But you still lack sufficient funds to open and equip the clinic you were dreaming of.
We all know modern veterinary medicine requires equipment that can cost a fortune. Even though it gives you a possibility to diagnose, treat sickness and perform surgeries with ease it's still risky to spend that much money and find yourself in debts on such short notice.
We will present few ways that you can make use of that will stock you up with various equipment sufficient for starting a clinic.
Build friendly connections with Local Humane Societies
Humane Societies are organizations that aim to put a stop to animal and human suffering. Aside from National Humane Societies that focus on broader issues, local ones focus on adoption, sheltering and euthanasia of animals (there are also a 'no kill' societies). Best equipped Humane Societies exist in Australia, Canada, USA, New Zealand and the UK, but organizations in other places have great conditions too.
Most societies have in-organization units and functioning clinics dedicated to proper animal healthcare. Like any other clinic, these ones are fully operational and equipped for managing everyday cases. The local humane societies are usually funded by different sources which money they invest in modernizing the clinics and shelters and improving animal welfare.
This is the perfect time to make use of their older equipment that's soon to be replaced. It shouldn't bother you that the equipment may be used if it's still functional and in great working condition. You will be surprised of the 'jewels' they might have to offer you.
This doesn't necessarily mean that you will get the equipment for free. Sometimes it's a giveaway and sometimes a sell-off. In both cases, it's a lot cheaper than purchasing them at actual market prices.
Visit your Local Humane Society or a couple of them. Get to know the staff and maintain friendly relations with the people. Make sure to leave your contact information and be the first person they contact when they plan to sell something off.
Re-manufactured equipment
Using the re-manufacturing route of getting necessary veterinary equipment can save you up a lot of money when getting veterinary supplies. These supplies consist of retooled pieces of equipment by the manufacturer and re-sold at great prices.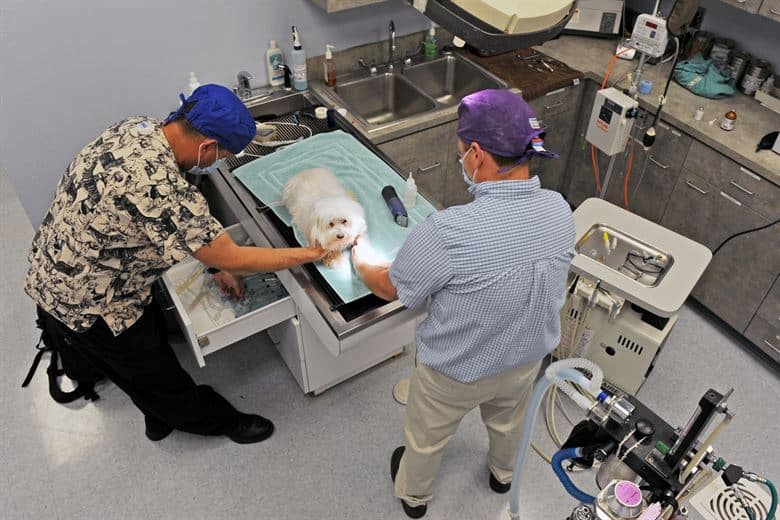 External labs
This way you don't get any physical equipment in the clinic but it's a good way to start performing veterinary medicine on budget. Using external labs for most necessary testing procedures can give you heads up on correctly diagnosing and treating diseases. You will have to pay the external labs and probably won't have many benefits performing the test, but at least you won't have to spend a lot at once on purchasing expensive machines.
Project dedicated to support and help to improve Veterinary Medicine. Sharing information and raising discussions in the veterinary community.