A dog treadmill should not substitute outdoor exercise. When you take your dog outside, it will get improved stimulation. However, there are several situations where a doggy treadmill can complement other activities for your dog's wellbeing.
For instance, unfavorable weather or other commitments might restrict you from taking your dog outside. You could also have financial limitations barring you from hiring a dog walker.
In such cases, dog exercise equipment is necessary. If you get a dog treadmill, it will provide a simple way to keep your furry friend fit, reduce hyperactivity, and reduce the probability of behavioral issues.
In this guide, you'll learn about the best treadmills for dogs and how to select one.
Best Dog Treadmills
This is a dog treadmill specially designed for small and medium-sized dogs. It comes fitted with a 1.4'' LCD Display Screen that shows speed, time, distance, and calories. Even when the weather outside is not favorable, you can still keep your furry friend fit with this piece of equipment.
The treadmill has a safety key that stops it when the dog pulls out the safety key. Its remote control has an emergency stop button, allowing you to stop the treadmill if your canine is in danger.
The treadmill is robustly built with 600D oxford cloth that is waterproof and detachable, ABS, and iron pipe. You can easily assemble the treadmill within 20 minutes following the instructions provided. It is also easy to move it around because of its built-in wheels. It allows you to adjust the base to cater to the needs of different pets.
Main Features:
It is suitable for dogs weighing up to 200 pounds.

It has an LCD screen that displays speed, distance, and calories.

It is fitted with a safety key to keep your furry friend safe.

The design has an oxford cloth that blocks the dog's vision for concentration.

It has an adjustable base to accommodate different pets' needs.
Specifications:
Maximum dog weight – 200 pounds

Product Dimensions – 49'' L X 21'' W X 28''-29.5'' W

Product weight – 47.5 Pounds

Running area – 14''L X 38'' W
---
This dog treadmill features a non-inclined platform that offers simplicity and comfort. The treadmill is suitable for dogs up to 44 pounds. The equipment can accommodate two dogs if they are not too big.
You can set the running programs manually or using a remote control. It also comes with a metal rail where you can tie our dog's leash for safety. Your pet will have an easy time climbing onto the treadmill as it has a low running platform.
There is also an emergency safety stop button that allows you to stop the dog pacer treadmill instantaneously. If you have a small dog, this small treadmill will serve you best.
Main Features:
It is built for dogs weighing less than 44 pounds.

You can exercise multiple dogs on the platform.

The treadmill allows for both manual and remote control.

It comes with an emergency stop button for your dog's safety.

The treadmill motor is whisper-silent, so it will not scare your furry friend away.
Specifications:
Maximum dog weight – 44 Pounds

Product Dimensions – 46'' L X 23'' W X 11'' W

Product weight – 63 pounds

Running area – 28'' L X 16'' W
---
The dogPACER LF 3.1 is designed for both small and large dogs. Many pet parents love this dog treadmill because it offers superb features at a reasonable price. It offers all the features you'd seek in a treadmill for your furry friend.
The pacer is quiet in comparison to others and is programmed with several exercise programs. It also allows you to manually adjust the speed and inclination as per your pet's capability.
Main Features:
It is suitable for dogs weighing up to 180 pounds.

It contains pre-programmed exercise routines.

It is not noisy and won't scare your pet away.

You can manually adjust the speed and inclination.

The running belt is 6 feet long.
Specifications:
Maximum dog weight – 180 pounds

Dimensions Open- 76.77''L X 27.16''W X 46.18''H

Dimensions Folded – 42.28'' L X 22'' W X 8.5'' W

Product weight – 84.4 Pounds

Running area – 71''L X 16.5'' W.
Buyers Guide – How to choose the best treadmill for your furry friend
Because you love your dog, you'll want to get the training equipment best suited for them. In this section, you'll find out how to select the best treadmills for dogs. Here are some of the frequently asked questions on treadmills for dogs.
How do you choose the best dog treadmill?
Before selecting a treadmill for your furry friend, you must consider the following factors:
Speed: A motorized treadmill has speed limits while a mechanical treadmill allows the dog to decide speed and pace. If you decide to buy a motorized treadmill, ensure that it has a generous range of speed settings.
A wide range of speeds to select from gives you enough options to select from. You must be present to supervise your canine friend if you are using an engine-powered treadmill.
Safety

: Safety is paramount in dog treadmills. To ensure the safety of your dog, the treadmill should contain most of the features listed below:

It should be compacted and strong.

The sides of the treadmill should be raised.

It should have an emergency safety stop mechanism.

The machine should allow for accurate incline control.

It should also have a dog leash holder.

Height

: consider getting a low-profile treadmill like the Go Pet Petrun PR700, which has a low running platform. Such a treadmill is safer for your dog and gentle on the joints.

Size

: Consider the size of your dog whenever you're selecting a dog treadmill. The treadmill should offer your dog sufficient room to exercise comfortably. For example, if you take the dogPACER LF 3.1, it comes with a 42.28 inches long and 22 inches wide running area, which gives your dog enough room to run.
Your Dog's weight:

Different treadmills are specially designed to accommodate dogs of a certain weight. Know your dog's weight and select a treadmill that can accommodate that weight.

Noise

: Noisy treadmills can scare your furry friend away. Ensure you select a treadmill with minimal noise.

Extra Features

: Consider a treadmill that contains extra features that are suitable for your dog. For instance, the Dog Tread Premium Small Dog Treadmill, which contains a hollowed-out tray for holding treats, is ideal if your pet would be reluctant to train.

Warranty

: Consider getting a treadmill with a lengthier warranty or a money-back guarantee if you suspect your dog might not accept the treadmill.
What are the benefits of a dog treadmill?
Your dog, no matter its size, requires exercising to some extent. For one reason or another, the traditional dog walking might not be the ideal option for many pet parents. Here are some of the benefits of getting a dog walker machine for your canine:
You don't have to walk your dog early in the morning or late in the evening if you usually work long hours.

If you live in a region with bad weather, the treadmill allows you to exercise your pet in your home.

In some cases, your dog might require more wearing out than you can give them. You can use the treadmill to supplement the walking.

If your dog is prone to allergies or pollution, it might be hard to take them out during certain seasons. In such a case, the treadmill comes in handy.

It also offers a more secure option for training your dog if your neighborhood is full of busy roads that cannot allow your dog to run off the leash.

The treadmills are also ideal for dogs struggling with weight issues.

What are the main attributes that differentiate dog treadmills?
Manufacturers try to use unique features to make their products more attractive to consumers. However, there are underlying features that you can use to distinguish between dog treadmills. They include:
Max weight

: This represents the maximum weight the treadmill can handle. This feature will help you decide whether the treadmill is suitable for large or small dogs.

Design

: A treadmill's design includes its construction material, running area, and motor. This helps inform you whether the treadmill is durable, has enough room for your dog, or is quiet enough not to scare it away.

Incline options and running platform

: various treadmills come with built-in slope or level planes, while others allow for adjustment of the inclination to make your dog comfortable.

Pre-set programs

: Many treadmills come with preset and adjustable fitness programs essential to your dog's fitness.

Portability

: Since dog treadmills are used to supplement your dog's exercise, you usually store them most of the time. It is better to look for treadmills with foldable and portable designs like the dogPACER LF 3.1.

Motor

: A great motor design should be durable and operates in silence. Motor noise could scare your canine.
What is the best way to use a dog treadmill?
You should develop a routine for your dog to use the treadmill. When beginning the exercise, never force your dog to get on to the treadmill, encourage it.
You can even reward it with its favorite treat every time it does what it's supposed to. If you are using an electrical treadmill, begin with the lowest speed. Motivate the dog to keep the momentum with treats.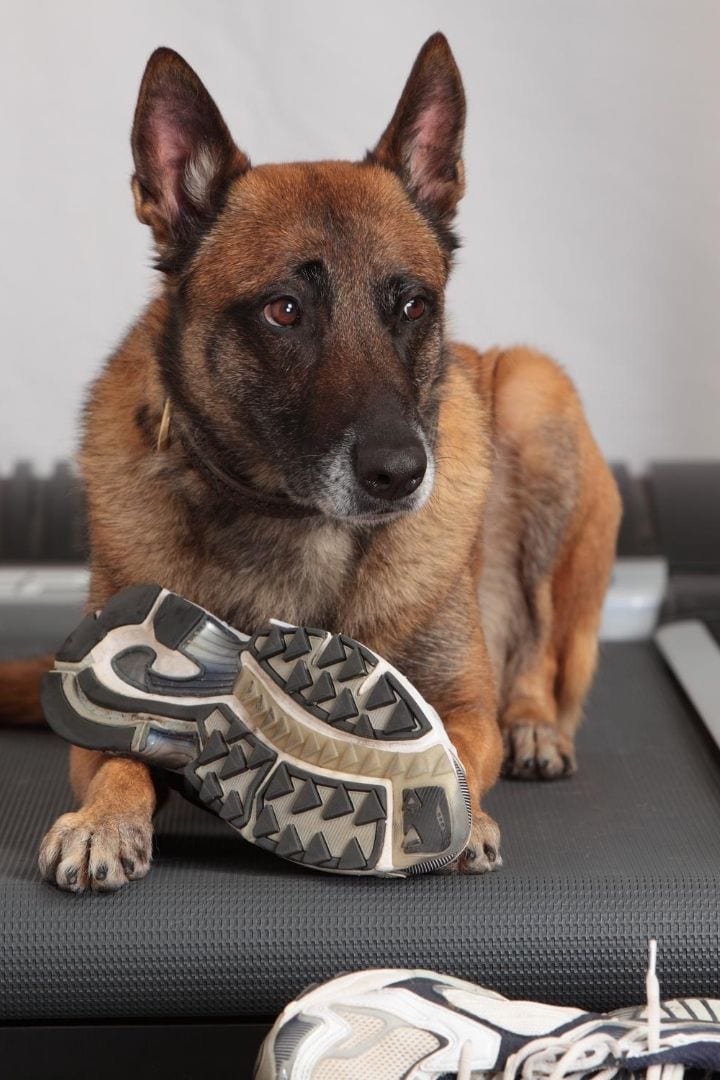 What precautions should you exercise while using dog treadmills?
Consider the following precautions while using a dog treadmill:
Monitor your dog as it exercises to avoid straining or even injuring it. Start slow and increase speed and inclination slowly.

In case of an accident, stop the treadmill immediately.

Don't leave your pet alone on the treadmill.
Conclusion
A dog treadmill is a piece of must-have equipment for individuals with pets susceptible to weight problems. If you are looking for the best treadmill that will be worth your while, consider the dogPACER LF 3.1, which is reasonably priced and has the best features.
You can also consider the Go Pet Petrun Pr700 Dog Treadmill if you have smaller dogs that you'd like to exercise simultaneously. Otherwise, with the contents in this dog treadmill guide, you're well equipped to select a treadmill for your dog.
Bear in mind that some of the links in this article are affiliate links and if you go through them to make a purchase we will earn a commission. We promote petprosupplyco.com and their products because of their quality and not because of the commission. The decision is yours, and whether or not you decide to buy something is completely up to you.
Project dedicated to support and help to improve Veterinary Medicine. Sharing information and raising discussions in the veterinary community.