Using Wood Litter for Cats
Wood pellets serve as cat litter by absorbing the fluids and odor and then crumbling into sawdust. Choosing the best wood pellet cat litter can be difficult. Fresh pellets stay on top of the litter box while sawdust settles at the bottom.
You shovel the waste and some sawdust out of the litter box daily to keep it clean. A litter made of wood pellets does not clump. Instead, wood pellets disintegrate and turn into sawdust.
Our Top-Rated Pick
Being gentle on the cat's paws, free from chemical additives, and odor-free, Ökocat Less Mess Natural Wood Clumping Cat Litter Mini-Pellets is our top pick. Besides, it's natural and eco-friendly, and all these attributes put it ahead of other wood pellet cat litter available on the market.
Why Use Wood Pellets as Cat Litter
Wood pellets have a pleasant smell, according to many cat owners, and may absorb odor. Kitty litter pellets made of wood are portable. Because clay cat litter is so heavy, cleaning the cat box can be a real hassle. Lightweight wood pellets dissolve into fluffy sawdust when wet.
The pellets absorb the pee from your cat's urination and decompose into sawdust. The sawdust contains urine ammonia, preventing it from evaporating into the atmosphere. Only the required number of pellets decomposes. The sawdust seems dry because it is so absorbent. Therefore, using wood pellets for cat litter is never regrettable.
Pellet Cat Litter Pros and Cons
Pros
No need for chemicals or fake fragrances. Most wood pellet litters are 100% natural, though this can vary by manufacturer.
Doesn't stick to your cat's paws or track out of the litterbox as regular litter can. Less mess as a result!
The majority of brands are 99 percent dust-free, which is excellent for cats or those with delicate respiratory systems.
Compared to cat litter made of clay or crystal, which both require mining, wood pellets are better for the environment. Additionally, unlike typical litter that will take up space in a landfill for the foreseeable future, wood pellet litter decomposes (or longer).
While not everyone like the smell of Pine or other woods, many people do.
Since wood pellets are safer for cats since they don't include sodium bentonite.
A 40-pound bag costs about $5 at places resembling a tractor supply house.
Due to their high absorption capacity, wood pellets are excellent at absorbing cat urine and masking offensive ammonia odors.
Cons
The fact that wood pellet litter doesn't clump will be the biggest drawback for most people. The scooping procedure is the exact reverse of what you would perform! However, hybrid options, such as OKOCAT, provide plant-based litter in the form of pellets that also clumps.
Some cats could prefer conventional options, so you must make sure your feline companion is okay with pine pellets! However, having worked in shelter medicine for more than ten years, I have seen countless cats using wood pellet litter contentedly. Therefore, most cats won't experience any issues.
Even though the pellets are excellent at absorbing urine, the smell of cat excrement doesn't often overshadow the natural scent of Pine.
How to Use Wooden Pellet Litter
Using wood pellets is simple if you're used to using clay litter for your cat. The easy steps are as follows:
Scoop Up Just a Little Bit
Keep in mind that when exposed to "cat's fluids," wood pellets expand. This is why, to prevent a mess, you shouldn't overfill the litter box.
Read the Labels
You might also want to study the instructions if there are particular ways to use the wood pellets. To prevent fast running out of wood pellets, you can also learn how much to use daily and for each cat.
Maintain it Daily
Even though it claims to be able to absorb more than clay, you still need to clean it every day to get rid of any unwanted items.
How to Scoop Pellet Litter
Do you feel apprehensive about attempting to clear up pellet litter? Don't worry – we have some simple steps that you can follow:
Take away all solids. Clear out all the disgusting items from your cat's litter box by searching it. Not a pretty task, do you think? But given that it is cat excrement, you must do it to get rid of the revolting odor.
Use a scoop to collect the remaining pellets. For this, you might wish to look for the best scoop for paper or pine pellet litter with reasonable holes. You can distinguish between solid objects and dust and dirt using the perforation.
Shake the scoop gently. Shake it to eliminate dust and debris, then place it over the cat waste container. To prevent having to clean up too much, ensure that the debris doesn't fall outside.
Save the remaining dry pellets. It's time to prepare the leftover pellets for new pellets after you've removed all the filthy stuff, which brings us to.
Include more pellets. Pick up a fresh batch of pellets so your cat can resume using the litter box. Once more, be careful not to overfill!
At a Glance, the Best Kitty Litter Made From Wood
Product name
ökocat Super-Soft Natural Wood Clumping Cat Litter with Odor Control, Large,16.7 lbs
ökocat Less Mess Natural Wood Clumping Cat Litter Mini-Pellets, Great for Long-Hair Breeds, Large, 22.2 lbs
Kaytee Wood Pellets Litter 8 lb
Product name
ökocat Super-Soft Natural Wood Clumping Cat Litter with Odor Control, Large,16.7 lbs
Product name
ökocat Less Mess Natural Wood Clumping Cat Litter Mini-Pellets, Great for Long-Hair Breeds, Large, 22.2 lbs
Product name
Kaytee Wood Pellets Litter 8 lb
Your Wood Pellet Cat Litter Shopping Guide
After looking over the finest cat litter pellet options available, how do you know which one is best for you and your cat? Please continue reading so we may assist you in making the right decision, as there are many things to consider.
Pellet Material
The brand of pellets you select can impact how long it takes your cat to adjust to the new material if it is switching from clay litter. Cats can adapt to finer pellets more quickly than they can to larger pieces. One of the most popular ingredients in pellets is Pine.
However, some cats dislike the aroma of Pine. Although recycled paper would be preferable for fussy cats, Pine is more absorbent. Only two of the products we examined contain mordenite zeolite and walnut shells.
However, most cats appear to enjoy the components. Mordenite zeolite is a naturally occurring mineral processed into pellets, despite sounding strange and probably synthetic.
Bag Size
Pellet litter is available in various weights, from little three-pound bags to enormous 50-pound (22.7 kilograms) containers. Before placing a bulk order, we advise ordering a 12 to 20-pound (5.4 to 9.07 kilograms) bag to test it out. You won't spend as much money trying a different brand if your cat doesn't like the litter and starts urinating on the floor instead.
If you utilize the brands we specified, you will likely run across them because damaged bags and inadequate packaging are common issues. But if you want a refund or a replacement, you can return the item or look for the same brand at a cheaper pet supply shop. The remaining brands were not concerned with shipping or packaging, but our sixth and seventh choices did.
Price
Pellet goods will cost a little more if you purchase clay litter. Pellets work better at reducing odors than most clay brands and last longer. Still, some brands call for the purchase of extra accessories. You will also need pads for the urine and blocks to raise the base if you use a non-clumping litter that calls for a straining box.
Using the non-clumping litter will cost approximately $20 to $40, and you'll need new urine pads. If you have a typical litter box, the best choice, Okocat Mini Pellets, performs better than the competition in terms of odor management, clumping, and environmental friendliness.
Dust
The majority of pellet litters assert to have little dust. All the products we looked at were less dusty than clay litter. But upon delivery, some of the more delicate pellets tended to shatter into sawdust. We advise choosing one of our top options that are nearly dust-free for cats with allergies and those recovering from surgery.
Tracking
Switching from clay to pellets will resolve your cat's tracking issues. With natural pellets, you won't have to worry about consuming a scent pebble when it is grooming its paws. Softer pellets are more comfortable for a cat's feet, but if they're too weak, they could get caught in the claws and fall to the ground.
Larger pellets are more difficult to sift through when cleaning the litter box, but they're less likely to track on your floor.
Odor Control
It's usually better to use an unscented brand of eco-friendly litter. Artificial perfumes can temporarily mask odors, but if you get a premium litter that naturally masks aromas, you won't need them. All the brands we looked at employed natural smells rather than artificial additives, except our eighth option, which also contained baking soda.
You won't have a pellet odor issue if you clean the litter box daily. Unlike clay litter, you can flash some pellet litter, keeping your garbage can from smelling like cat poo.
Lightweight and Manageable
Let's face it; nobody enjoys dumping kitty litter that is so heavy that it strains their shoulders. By selecting wood pellets that aren't too heavy compared to clay, maintaining your cat's litter box shouldn't be challenging.
Non-Toxic Wood Pellets
Formed from pinewood, wood pellets don't require harsh chemicals, like bleach, to treat them (versus clay, that is). Wood pellets can therefore be a much more environmentally and cat-friendly product.
Using Wood Pellets from Sustainable Sources
It is advantageous if the materials used to make your pet litter are renewable, like downed trees or salvaged wood. Doing this won't harm Mother Nature and could help thousands of animals.
Reviewing Our Top Picks
Brand: Okocat
Litter type: Wood fiber
Size: 7.75 x 11.25 x 12.75 inches (19.7 x 28.6 x 32.4 centimeters)
Scent: Unscented
Weight: 22.2 pounds (10.07 kilograms)
About This Product
The pellets are gentle on the cat's paws and free of scents and chemical deodorizers. Smaller pellets are less likely to get stuck in the cat's paws or tracked throughout your house. By naturally preventing enzymes from combining with waste and liquid, wood fiber works to stop ammonia odor before it even begins.
Upon contact, it absorbs liquid and solidifies to form clumps that are easy to shovel. Because Okocat's litter is biodegradable, there's no need to worry about it taking up space in a landfill; flush it down the toilet.
Pros
Biodegradable
Made from rescued wood
Dust-free formula
Unscented
Cons
Brand: Feline Pine
Litter type: Pine
Size: 16.2 x 4.5 x 24.5 inches (41.91 x 11.43 x 62.23 centimeters)
Scent: Unscented
Weight: 40 pounds (18.14 kilograms)
About This Product
Regarding your cat's litter box, odor control is crucial, but you want a natural choice for your feline friend. Feline Pine Non-Clumping Pine Pellet Litter provides the best odor control, free of harsh chemicals, added aromas, and synthetic fragrances. It uses plant-based ingredients to neutralize the strongest smells rather than harsh chemicals or synthetic fragrances.
It is from naturally odor-neutralizing, absorbent pine shavings only obtained from salvaged lumber. Your cat's litter box's absorbent pine fibers act like a million tiny sponges, soaking up moisture and containing odors. The litter's natural pine shavings absorb odors naturally and are kind to the kitty's paws.
Pros
Less expensive than most other brands
Absorbent
Contains no perfumes or chemicals
Environmentally friendly
Dust-free
Cons
Brand: Small Pet Select
Litter type: Pine
Size: 19.5 x 9.75 x 6.25 inches (49.5 x 24.8 x 15.9 centimeters)
Scent: Unscented
Weight: 25 pounds (11.3 kilograms)
About This Product
Small Pet Select Premium Pine Pelleted Cat Litter is entirely Pine. It is free of added chemicals or fragrances. It contains no silica and is entirely natural. Your cat's litter box will smell like fresh pine thanks to the triple screening done by hand on the pellets to reduce dust. The Small Pet Select is perfect if you use a sifting litter box system.
If not, you'll need to buy four wooden blocks, a sifting pan, and urine pads. The pellets break down into sawdust when a cat uses the litter, and the sawdust then falls through the grating to the pad. The spent litter can make a big mess if there is no sifting system.
Pros
All-natural Pine
Triple-screened
No chemicals or fragrances
Cons
You can only use it with a sifting tray
Flimsy packaging
Expensive
Brand: Naturally Fresh
Litter type: Pellet
Size: 6 x 10.75 x 17 inches (15.24 x 27.3 x 43.18 centimeters)
Scent: Unscented
Weight: 9.9 pounds (4.49 Kilograms)
About This Product
Eco-friendly, non-clumping Naturally Fresh Pellet Litter comes from organic walnut shells. Since walnut shells have a special ability to reduce ammonia odors up to seven times better than other non-clumping litters, Naturally Fresh eliminates odors without using harsh fragrances. This makes the litter safer for animals or owners who have breathing issues.
Your cat may breathe easier in your home thanks to Naturally Fresh, which is environmentally friendly, non-toxic, and free of hazardous silica dust. It is healthy for your pets and the environment because it is all-natural, biodegradable, corn-free, and grain-free for cats, dogs, and small animals.
A low-tracking material prevents your cat from bringing bacteria and litter into your house.
Eco-Friendly – Solar-Powered
Pros
All natural formulae
Ultra odor control
It is super absorbent
100% non-toxic
Cons
Brand: Simply Pine
Litter type: Pine
Size: 3 x 1 x 2 inches (7.62 x 2.54 x 5.08 centimeters)
Scent: Unscented
Weight: 20 pounds (9.07 kilograms)
About This Product
This litter is genuine Northern Pine and free of dangerous chemicals or fillers. Your cat will adore the natural texture and aroma of this litter. A better option than food-grade litter consisting of corn or wheat or dusty clay, both of which might encourage the growth of bacteria in your home.
Simply Pine naturally absorbed Cat urine three times better than conventional clay liners. Designed to be naturally antibacterial and biodegradable—a fantastic environmentally responsible option for any cat parent.
Pros
Dust-free
Biodegradable
All natural with no additives or chemicals
No tracking
Environmentally friendly
Cons
Non-clumping
Large pellets, making sifting more difficult
More expensive than our number 1 choice
Brand: Natures Logic
Litter type: Pine
Size: 4 x 13 x 22.5 inches (10.16 x 33.02 x 57.15 centimeters)
Scent: Unscented
Weight: 12 pounds (5.4 pounds)
About This Product
Give your cat a better place to "go" with Nature's Logic 100% All-Natural Pine Non-Clumping cat litter because she deserves the best. This litter is perfect for pet owners who wish to add a touch of nature to their litter box. Nature's Logic litter avoids the silica particles included in most clay litters because it is from Ponderosa Pine.
Not only is biodegradable trash better for your home, but it's also better for the environment! A happy home results from using an odor-control product, which lessens the amount of stench in your litter box.
Cats, kittens, and other tiny mammals like ferrets or rabbits are also perfectly secure because it is dust-free. It's a suitable litter for sensible cat parents and makes the cats happier!
Pros
All-natural pine wood
No tracking
Biodegradable and flushable
Cons
Dissolves into sawdust easily
Hard pellets
Odor control lacking
More expensive than top brands
Brand: Feline Pine
Litter type: Pine
Size: 19.5 x 14 x 2.5 inches (49.53 x 35.56 x 6.35 centimeters
Scent: Unscented
Weight: 40 pounds (18.14 kilograms)
About This Product
Instead of harsh chemicals, additives, or synthetic perfumes, Feline Pine employs the odor-fighting abilities of 100% natural pine to eliminate even the harshest odors. Highly absorbent, it keeps away ammonia odors by binding to them directly.
You can find the finest odor control in Pine harvested sustainably. For the welfare of your cat and your house, it's a wise decision. It is odorless, non-clumping litter that is lightweight.
Pros
Less expensive than most other brands
Absorbent
Contains no perfumes or chemicals
Environmentally friendly
Dust-free
Cons
Brand: Kaytee
Litter type: Pallets
Size: 10.3 x 2.3 x 17.5 inches (26.2 x 5.8 x 44.45 centimeters)
Scent: Unscented
Weight: 8 pounds (3.63 kilograms)
About This Product
All birds and small pets should use Kaytee Products wood pellet litter, 100% natural wood. This bedding has undergone special processing to remove other brands' dust and wood fragments. It won't stick and makes cleanup a breeze. The 100% natural wood-based bedding is ideal for cats and is best for all small animals.
Pros
Made without artificial ingredients
Odor-removing properties
Dust-free
It doesn't stick or cling too much
Easy to clean up
Cons
Brand: Okocat
Litter type: Pines
Size: 12 x 9.25 x 11.5 inches (30.48 x 23.5 x 29.2 centimeters)
Scent: Unscented
Weight: 14 pounds (6.35 kilograms)
About This Product
Perfect for kittens or even cats with sensitive paws. Because of its incredibly soft texture comparable to clay, switching your cat to a cleaner and healthier natural option is simple. Decide to move to a superior natural litter that is better for your cat, family, and house that is cleaner and healthier.
ökocat offers the genius of European engineering for a better performing litter and is from sustainably harvested, ethically rescued natural wood fiber. Natural barriers in wood fiber restrict enzymes from joining with waste and liquids, preventing the production of ammonia and odor.
A precisely cut fiber absorbs moisture on contact to solidify into clumps that are simple to scoop up and clean. It is 99% dustless. For a cleaner pour, screen and de-dust clean wood fiber, no soiled clay dust. Unlike clay litters left in landfills for years, it is flushable, biodegradable, and dissolves rapidly and cleanly.
Pros
Dust free
Biodegradable and flushable
No synthetic chemicals added
It is flushable
Cons
Brand: Natural Wood
Litter type: Pellets
Size: 18.5 x 8.27 x 11.81 inches (46.99 x 21 x 29.99 centimeters)
Scent: Unscented
Weight: 4.9 pounds (2.2 pounds)
About This Product
Small pellets of eco-friendly cat litter. All stages of cats can use it. It has an extremely high absorption rate of up to 700%. It is entirely natural. No poisons or chemicals. They are more comfortable for cats because they are from smaller particles. Effectively control offensive odors. Biodegradable and able for you to flush into toilet bowls.
Free of scent, industrial gel, formaldehyde, and potentially dangerous additives. The odor-control and absorption capabilities of the natural, clumping wood litter have no match. For your house, it's a breath of fresh air! Boasts simple clumping and up to 700% water absorption. There is the trapping of the liquid inside the natural organic fibers by the microscopic fibrils.
Each cat can use a single package for 30 days! The litter can completely absorb all liquid and effectively lock in odor for just ten seconds. Suitable vacuum packaging safeguards organic pellets, keep out humidity and conserves storage space.
Pros
No harmful additives
Lasts longer
Higher absorption rate of up to 700%
It is comfortable for your cat.
Cons
FAQs on Wood Pellet Kitty Litter
What Can I Use Instead of Cat Litter?
Wood pellets are an alternative way of creating cat litter for your feline friend. You can purchase it from some pet stores and use it like how you use ordinary cat litter. However, the shift is not as easy as it seems. When this happens, you should be nice to your cat.
Switch from the old litter to the new one, or mix the two better. This will prevent your cat from reacting to the new litter.
Cat Litter Vs. Pellets – What's the Difference?
Compared to conventional cat litter, wood pellets absorb more moisture. As a result, you won't need to replace your cat litter as frequently as you would with standard bags. As a result, if you often become bored of taking care of Tabby's litter box, this might be wonderful news.
When Should I Replace My Pellet Litter?
You might be able to tolerate the wood pellet packaging two or three times per month, depending on a variety of factors, including:
Your cat's actions
How many cats live in the house
Your cat's age
Your litter box's size
How Do I Dispose Of Wooden Pellet Litter?
Compared to clay litter for your cat litter box. Here are some methods for discarding your wood litter for cats:
Flush it Down the Toilet
However, the wood pellet size may impact this. You can flush small ones down without risk, but be careful not to use too much to prevent clogged pipes. Although flushing appears to be the most practical method, there are various ways to dispose of wood pellet cat litter.
Composting
A wood pellet is biodegradable and compostable because it comes from nature. If you have a garden, you can utilize it for your plants. You should not apply it to edible plants to prevent cross-contamination, though!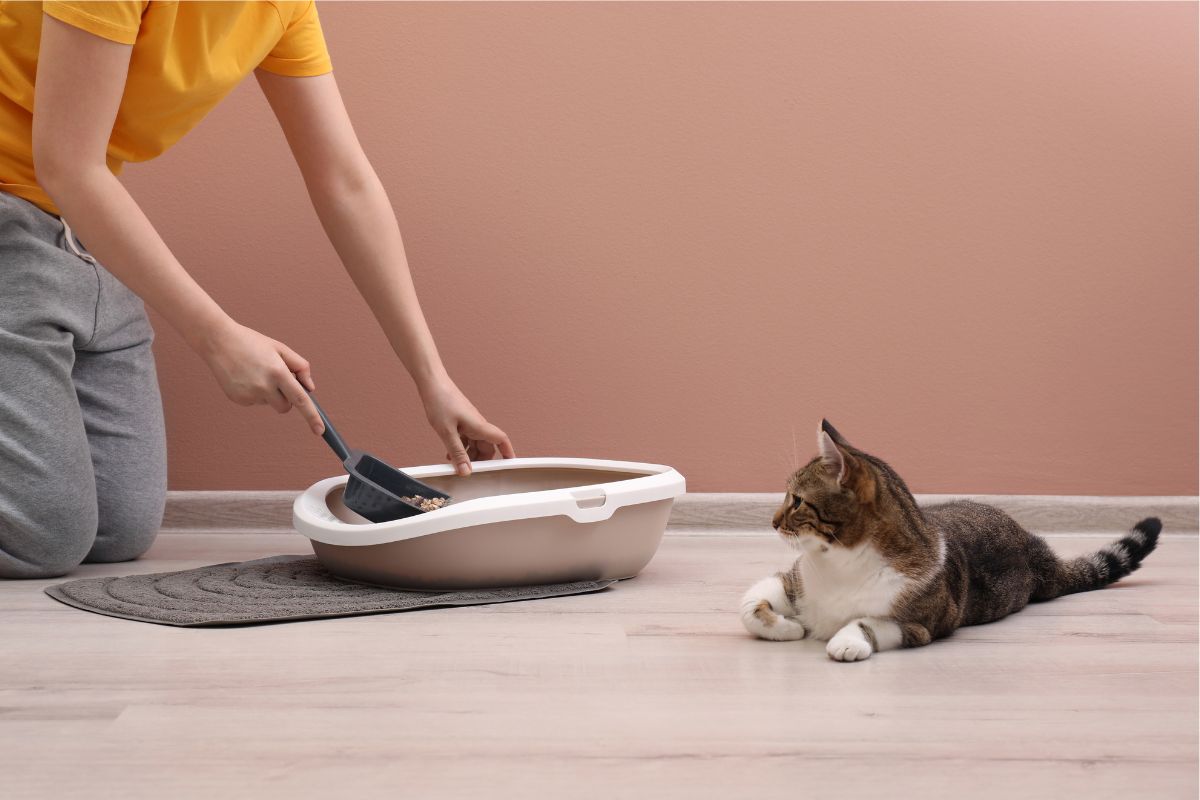 Parting Thoughts
Ökocat Less Mess Natural Wood Clumping Cat Litter Mini-Pellets are the best overall cat litter pellets for simplicity of use. It is one of the least priced, highest-quality pellet litters yet and is beneficial to the environment. Finding the ideal pellet litter that benefits you and your cat could take trial and error.
This review of some of the different wood pellets for litter available should assist you in your quest to make the unpleasant task of cleaning the litter box a little more enjoyable. This should make selecting the best cat litter a little easier.
Project dedicated to support and help to improve Veterinary Medicine. Sharing information and raising discussions in the veterinary community.