What is A Dog Ramp?
A dog ramp for beds and other high surfaces such as cars and couches are specifically designed to aid dogs with mobility issues. Perfect for those with medical conditions such as arthritis, disabilities, and those senior citizens who struggle to keep up with the young dogs or dogs with long legs (we are looking at you, Dachshunds).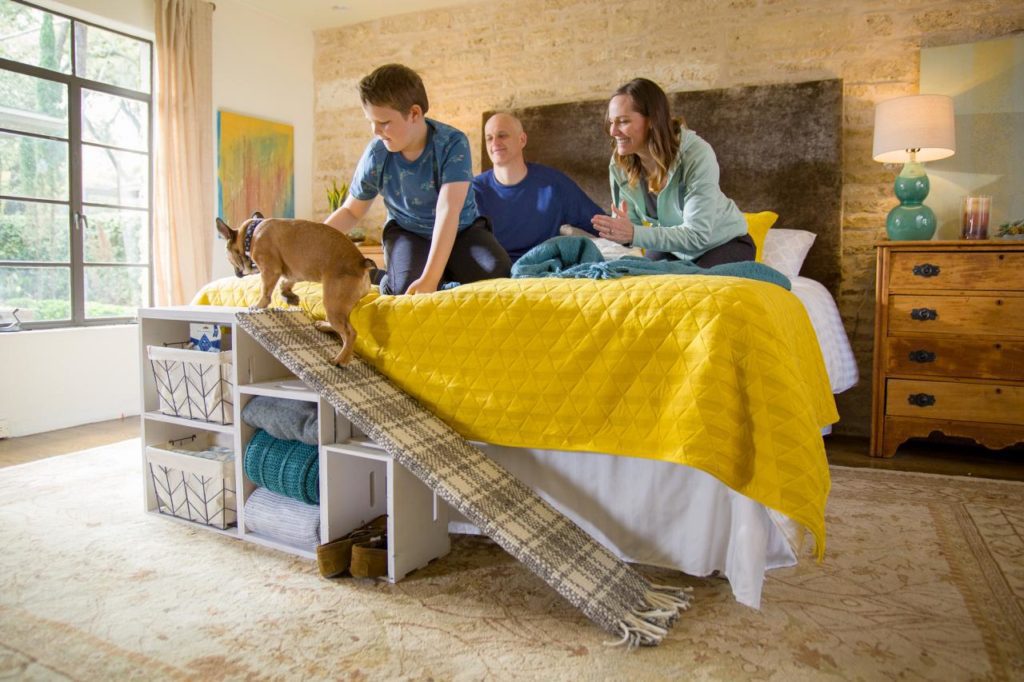 Dog ramps come in all different shapes, materials, and sizes, but their primary function is to be adjustable and attach them to a high surface to the ground at a moderate incline.
The Benefits of Using a Dog Ramp For Beds
Easier access to high surfaces
This is especially useful for small breed dogs and puppies who struggle to jump up onto the couch or bed for cuddles. It provides a safe and easy way for them to simply walk up and down to their favorite resting spot.
Less likely to cause injury
For some breeds, simply jumping off the couch could cause significant injury. Using a dog ramp correctly eliminates the risk of fall-related injuries & long-term medical issues.
Less strain on joints
While large dogs may find it easier to jump up and down than their short-legged friends, this activity can cause severe strain on their joints long term. Even as a large breed puppy, their developing joints need all the assistance they can get to prevent long-term damage.
Easing pain and discomfort
For dogs with medical disabilities, giant dogs, and elderly dogs that find the act of jumping up and down painful, the use of a ramp can allow them to go about life as usual without inducing unnecessary pain.
Multiple uses & long term use
A dog ramp can be used in all stages of a dog's life, making it an excellent investment for your furry friend's future. In addition, some products are versatile and can be used in multiple scenarios inside & outside of the home and for more than one pet!
Tips to Consider When Buying a Dog Bed Ramp
Assembly
When choosing a dog bed ramp, a simple and easy to assemble product is recommended. A product with three to five pieces to build will be the easiest for pet owners to set up & maintain in the long run.
Incline
A ramp should always have a gentle incline for optimum safety & comfort of your pet. The recommended slope for small dogs is between 18 to 20 degrees and 22 to 25 degrees for medium-sized dogs.
Appearance
As dog ramps gain popularity with pet owners, there is a wide variety of designs, so you don't have to compromise your pet's style for safety.
Weight and Height
Consider the height of the ramp compared to the height of the desired furniture you want your dog to be able to reach & ensure that there will be a safe incline. If you plan on using the ramp in multiple locations around the house, ensure that it is light enough to be portable.
Durability
Consider the material and design of the product. Is it going to last in your household? We all know our pets can be tornados of destruction, so choosing something that they will be able to use in the long term is essential.
Ease of finding replacement parts, etc.
If your tornado of destruction does manage to break any parts of the pet ramp, or if any wear and tear occur, you should be able to find replacement parts to repair the damage easily.
Our Writer's Pick For The Best Dog Ramp of This Year
Compared to the other dog ramps reviewed, I believe that the most versatile and durable product is the PetSafe CozyUp Bed Ramp for Dogs and Cats . The ramp itself is adjustable to four different heights, and is entirely self-supporting, meaning it does not need to be attached to the vehicle or furniture. Adjustable height is vital if you are planning to use the ramp both indoors and outdoors. 
The dog ramp comprises solid wood & stainless steel fastening screws, which creates a sturdy base supporting up to 200 pounds. The surfaces for your pet to walk on are scratch-resistant and contain a layer of eco-friendly plastic. The carpet is made with a high traction fabric, with grooves to prevent your dog from slipping and injuring themselves.
The ramp is easily cleaned with just a wet towel, and the non-slip mat can be cleaned with a brush or vacuum cleaner. Once you are done using the ramp, just collapse it and store it easily without taking up too much space.
This may be a great investment for you as a long-term solution to your dog's safety & comfort when navigating heights in and outside of your home.
A Quick Overview of the 8 Best Dog Ramps
Supports pets up to 120 pounds
No-slip carpet
Durable
Easy to set up
Adjustable height for use indoors & with vehicles
Sturdy & durable material
Non-slip surface
Easy to set up
For pets up to 200 pounds
Simple assembly
Made with a foam interior
Removable cozy cloth cover
Sturdy, lightweight frame for portability and non-slip surfaces
Supports pets up to 150 pounds
A lightweight frame with non-slip surfaces
20-inch steps support 150 pounds & 25-inch steps support 200 pounds
Non-slip surfaces
Portable
Lightweight
Easy to assemble
Supports up to 80 pounds
For use inside the home or with a vehicle
For pets up to 150 pounds
Easy to set up
Lightweight
Portable
Non-slip surfaces
For small dogs & indoor use only
Adjustable height
Collapsable
Sturdy with paw grip carpet
The Top-Rated Dog Bed Ramps For This Year
Best for Large Dogs with Arthritis or Joint Pain
Amazon's Choice in Dog Safety Ramps by PetSafe
Another quality product from PetSafe is the Cozyup Bed Ramp for Dogs and Cats. This CozyUp ramp is a durable product crafted with wood and a heavy-duty carpet cover for no-slip safety. The ramp has been independently tested and rated to support pets up to 120 pounds.
The ramp measures 70 inches in length x 16 inches in width x 25 inches in height. The length aims to provide a gentle climbing angle, and the height allows comfortable use for larger dogs for indoor and outdoor use. It has been ranked #2 in Dog Safety Ramps by Amazon.
The ramp can be set up in approximately 15 minutes and cleaned with wood polish and carpet cleaner. This product is not as easy to set up as other ramps, but if you are looking for a long-term durable solution for your pet's comfort, this may be suitable for you.
This could be an excellent option for larger elderly dogs who need a boost to get to their favorite sleeping spot without the pain and discomfort of jumping up and down. Or training large breed puppies to gently walk via the ramp (with plenty of treat-based training, of course) and alleviate the strain on their growing joints.
When it comes to pet behavior & lifestyle training, PetSafe has been a trusted global leader for nearly 30 years, and with quality products like this, it is easy to see why they are trusted amongst so many pet owners.
FAQ
How can I get my dog to use this ramp? He is scared to go near it!
Putting your pet's favorite treats on the ramp and having them eat them off them, then giving treats gradually as they start to climb the ramp, will help eliminate their fear of this product.
Is the surface non-slip for my pet to climb up?
Some owners have reported that the surface is difficult for their pet to grip onto. Some people have solved this issue by buying a replacement carpet and attaching it themselves.
Does this ramp attach to the furniture?
No, this ramp is designed to go alongside the furniture and does not attach to the bed/couch.
Is the ramp easy to set up?
The product comes with instructions and all equipment/tools necessary to set up. But, unfortunately, it requires the owner to put it together at home.
Top pick for overall use
The SASRL may be the most versatile dog ramp, with four different adjustable heights, indoor and outdoor use, and durable materials that can withstand varying weather conditions. Ranked number #2 In dog car ramps on Amazon, many owners have found this an accessible ramp to train their pet to use, using treat motivation.
This may be a great option if you have multiple pets of different sizes that would require different ramp heights or if you want to use the ramp for furniture and transport into vehicles. The adjustable stages are 9.3 inches, 15.3 inches, 19.6 inches, and 24 inches. In addition, every ramp is independently safety tested and can support pets up to 200 pounds.
Another great point of this product is that it does not need to be placed on the furniture your pet is trying to reach; it is entirely self-supporting. The structure is made of sturdy solid wood with stainless steel fastening screws. In contrast, this may require more maintenance than other pet ramps. But it will be a durable option for your pet.
The ramp is also scratch-resistant, with a layer of environmentally friendly plastic over the wood. In addition, the fabric carpet has high traction with grooves to prevent slipping or falling, which can be very beneficial to elderly or injured pets in safely easing their pain and discomfort.
Another use the ramp advertises is as part of an obstacle course for dogs being trained in agility and balance. SASRL designs and tests its products with a team of experienced dog owners and designers. They aim to bring the best experience to you and your pet.
FAQ
What type of wood is it made of?
The ramp is made of pine wood, and many owners find it to be a very sturdy and durable product.
Will this be suitable for my 120lb dog to get up on the couch?
Yes, this product supports the weight of 200lb and has four adjustable heights. Just measure your couch and see if one of the four heights is suitable for your sofa.
Does this require assembly?
No, the ramp is delivered pre-assembled for the owner's convenience.
Is this product lightweight and portable?
Yes, the ramp itself weighs only 10lbs, so it is effortless to carry & move around.
Best for Comfortable Steps for Small Dog
The Zinus Cozy Stairs are ideal for smaller pets to be used as stairs for your pet to climb onto the bed or couch at home. It is made of a high-density CertiPUR-US Certified foam interior and covered with a removable and washable cozy cover. They are ranked #30 in dog steps and stairs on amazon.
The pet steps are 15 inches high and 18 inches wide with 11.0 and 7.85-inch steps. This could be a good option if you have a smaller breed dog who struggles to jump up onto the couch without assistance.
The steps are not able to be folded. They just come as they are but have a stylish, grey plaid cover. The maintenance is very straightforward as the cover can be removed and washed and replaced easily in case of any accidents.
The steps come as they are, so the assembly is straightforward. It just requires attaching the cloth cover over the foam. They are ranked number #36 on Amazon for Dog Stairs & Steps. This product is created by the Zinus company in China, which is focused on creating harmony for pets. Their company motto is to create comfortable and easy to assemble beds and furniture for pets to relax.
As their foundation is made of foam, they are more suitable for smaller dogs whose weight the steps can support. They may not be as sturdy as other plastic/wood steps or ramps, but if you are looking for a comfortable, easy use set of stairs for your pet to use exclusively indoors, this may be a good option.
FAQ
Where can I buy a replacement cover for the Cozy Stairs?
You can purchase replacement covers for each size on the Zinus store on Amazon.
Is it easy to train my dog to use these steps?
A lot of dogs find it easier to use these steps as the foam provides a cushioned surface for them to walk on. This can be good for dogs that are scared of using plastic or wooden steps.
Would the X-Small be able to support both my dogs? One is 10 pounds, and the other is 20 pounds.
Yes, the X-Small size will support up to 20 pounds, making it suitable for both of your dogs.
Are the steps suitable for cats?
Yes, a cat will be able to use these steps. The X-Small size would probably be most suitable for a cat.
Best Used as a Vehicular Ramp
Amazon's Choice in Dog Car Ramps by PetSafe
The Petsafe Happy Ride Folding Pet Ramp focuses on helping your best friend comfortably and confidently join you on all your adventures. This pet ramp is specifically designed for vehicular use; whether you have a car, minivan, or SUV, the 62-inch ramp is a safe height for all.
Made of durable plastic, it has been independently tested and rated to support pets weighing up to 150 pounds. The high-quality PetSafe dog ramps are made in the United States, and Petsafe has been a trusted global leader for 30 years in pet behavior, containment, and lifestyle innovations.
For added safety, the surface of the ramp is high-traction with side rails to help prevent any slipping or falling. This might be a good option for pets with mobility issues, especially due to old age or medical reasons such as arthritis. In addition, a safe and sturdy pet ramp can help alleviate the pain or stress of jumping into a vehicle.
The ramp weighs only 10 pounds and folds in half with a safety latch, allowing owners to conveniently store in the vehicle between uses. The ramp measures 62 inch L x 16 inch W x 4 inch H. Due to its durable material and ease of parts; the ramp is straightforward to clean and maintain. Simply clean with antibacterial spray or wash as needed.
When considering purchasing this ramp, a precaution to take in mind is the height of your vehicle and the angle that you will be putting the ramp at. Also, ensure it is a safe angle for the size of your dog as recommended by veterinarians.
FAQ
Would my 100lb Golden Retriever be able to get into my SUV using this ramp?
Yes, the ramp has been tested for use in SUVs and can support up to 150lb.
Can I use this ramp to help my dog onto my boat?
This ramp may not be suitable for use around water as it doesn't fully attach to the vehicle. It needs to be held in place. This may be difficult when water is added, and it becomes slippery.
Can I buy a replacement fabric tread?
Yes, if you need to replace the fabric tread, you can purchase it online on Amazon.
Can I use this for the side door of my car?
Yes, an additional side door adaptor can be bought from Amazon. This will allow your pet to climb in through the side doors or into the trunk.
Best for Small & Large Dogs indoors
#1 Bestseller in Cat Stairs and Steps
The Petsafe CozyUp Folding Pet Steps are the perfect way to continue cuddle time with your best friend. Your pet can use the steps to climb up to the sofa or bed by themselves and spend quality time together.
The pet steps come in two sizes, which can support pets of varying sizes and weights. The 20-inch steps have been safety tested and can support up to 150 pounds, while the 25-inch steps can support up to 200 pounds.
The steps have non-skid feet to help attach to the floor without slipping, as well as the non-slip fabric covering the steps for your pet to walk on and side rails to prevent falling and slipping. If your pet can use stairs, they should have no issue safely navigating these pet steps.
The storage is simple, as they can be folded flat and are lightweight, making them easy to be used all over the house. In addition, they can be easily cleaned & the fabric can be vacuumed or brushed for hair. The smaller size measures 24 inch L x 16 inch W x 19.5 inch H, and the larger is 28 inch L x 18 inch W x 25 inch H.
Ranked #1 in dog & cat stairs & steps on Amazon and #129 in pet supplies, Petsafe has created a quality product that many pet owners love.
FAQ
How can I train my old dog to use these steps?
Take the training slowly and use lots of their favorite treats to entice your pet to use these steps. Positive reinforcement will help them associate using the steps as a positive experience.
Will the extra-large be suitable for my 100lb husky?
Yes, the steps can support up to 200lbs.
Will these steps shake or wobble when used on a hardwood floor?
The bottom of the steps comes with a non-slip grip to attach them securely to the floor.
Can I use these to help my dog into my vehicle?
If your vehicle is an appropriate height for the steps, you can use them to help your pet into your vehicle.
Best for Cats and Small Dogs Indoors
The PetMaker Dog Ramp is an easy-to-use, multi-use ramp that can be used indoor and outdoor for pets up to 80 pounds. Ranked #6 in dog ramps on Amazon, this could be a good option for pet owners who want a simple product that can be used in multiple situations; simply unfold the ramp and get to use it.
The frame of the dog ramp is made of wood, while the surface is polyester & foam padded, which is aimed at providing the optimal traction for your furry friend to securely walk up and down the ramp without slipping. In addition, the height can be adjusted and used to help your pet onto the couch, beds, indoor furniture, or into your vehicle.
The surface of the ramp can be spot cleaned or vacuumed and is portable and lightweight, making storage in your trunk, closet, or under furniture convenient. The dimensions for the ramp are 30.5 inches L x 15 inch W x 18 inch H.
Although the padding should help provide your pet with a safe non-slip surface, the ramp does not have non-fall side barriers, and some owners have left reviews that the surface is too slippery for their pet to climb. Therefore, owners may have to use a bit more precaution when training their pets to use this product to ensure their safety.
Petmaker strives to make aids for owners to ensure their pets' safety and give them a boost when they need some assistance getting where they need to go.
FAQ
My pet finds the ramp too slippery to grip onto; how can I fix this?
Some owners have found that putting a textured blanket on top of the surface can help their dog to use this ramp.
How heavy is the ramp? Is it easy to carry?
The ramp is 11.7 pounds, making it easily portable for use all around the home.
Is it safe to use?
Some owners have reported a gap between the couch/bed and the ramp at the top. This may not be suitable for all pets if they are unable to step over the opening.
Is this a good option for Dachshunds with back problems?
A ramp is definitely a good option for a Dachshund as there is less strain on their back than using stairs.
Best for Elderly Dogs
Amazon's Choice in Dog Stairs and Steps by Pet Gear
Combining the two options of stairs and a ramp, the PetGear Stramp Stair & Ramp Combination is a versatile product for dog and cat owners. The ramp is suitable for pets up to 150 pounds and is lightweight and portable.
Rubber grippers on the bottom of the steps keep them secure and in place, while the surface is a Supertrax mat, protecting the pet's paws. Owners should find it easy to train their pets to use this product using positive reinforcement.
Owners of this product can enjoy an easy snap-together setup & pack up spot cleaning as needed and a removable mat for easy cleaning. The product measures 28 inches L X 16 inch W X 16 inch H, with the step height being 5 inches from the floor.
The ramp is ideal for use around the home on beds, couches, and other furniture and is ranked number #6 in cat stairs & steps and #7 in dog stairs and steps on Amazon. Pet Gear has specialized in designing and distributing new and innovative pet products since 1936.
FAQ
Why is it called a stair and ramp combination? It just seems to be a ramp?
The reason it is called a stair and ramp combination is due to the flat area at the top of the ramp, which can provide a gentle way to ease your pet from the angle of the ramp to the surface of the furniture they are trying to reach.
Can I buy a replacement carpet for the ramp?
Unfortunately, no, at this time, the seller does not offer this service. However, some owners have found this material at home depot and attached it themselves.
Is there a benefit to ramp vs. steps?
Some dogs find ramps easier to use than steps, especially short-legged dogs and dogs with medical issues such as arthritis or joint pain.
Are these products made in America?
No, PetGear products are made in China.
Best for Small Dog Indoor Use
For small dog owners who want an indoor and outdoor pet ramp to help their furry friends climb onto the car, bed, or couch, the Birdrock Home Adjustable Pet Ramp offers a safe passage for them. This product is created by Birdrock Home and ranked #11 in dog car ramps.
This product is not too versatile. It is more suited explicitly for beds and couches 16 inches or shorter and only for dogs or cats up to 75 pounds. The ramp is adjustable in height; however, it must be in the tallest position to reach most couches, beds, and chairs. The three different heights are 12, 14, and 16 inches, with a length of 35 inches.
The indoor/outdoor plastic design is durable and covered in an anti-slip grip carpet for your pet's safety. It is an easy setup, just snap together at the desired height and use positive reinforcement or treat-based training to lure your pet onto the desired surface. When finished, simply adjust to the 2-inch height and store.
FAQ
Where is this product made?
The product is made in Texas, America.
Does the company have a returns policy in case the ramp does not suit my furniture?
Yes, there is a 30-day returns policy.
Does it come in a lighter color wood?
Yes, you can also purchase the ramp in white.
Can this ramp be used for medium-sized dogs?
The ramp is designed and sold to be used for small dogs.
The Final Verdict From I Love Veterinary
When it comes to choosing a pet ramp, ensure you consider all factors and how you intend to use the ramp or stairs. For example, factors to consider are whether you are using the ramp to train a puppy, assist your elderly or injured dog climbing onto furniture, or prepare your anxious dog to climb into the car without fear.
You should consider if this product is suitable for the size and breed of your dog, the height of the surface they are trying to reach, and the use you intend to use it for.
Project dedicated to support and help to improve Veterinary Medicine. Sharing information and raising discussions in the veterinary community.