Have you ever thought about the cat gestation period? How long does it take for those little fluffy kittens to be developed? Have you ever wondered what are the secrets behind the breeding of cats and why they are so special?
Cats are magnificent and unique creatures and they confirm this every day. From the uniqueness of their character to how magnificent their bodies are. The legend says that the cat's purr is magical and healing. Yes, we all know that when we are in pain cats know and they will come and lay on the painful body part and they will purr until the pain is gone. The legend says that the purr is so magical that if you put a cat in pieces in a room she will purr herself into one piece. Because cats are so magical, we decided to reveal one more amazing fact about them – the ovulation. We bet you did not know that cats ovulate while mating. And not with any mating, they need several successful copulations in order to ovulate and get their eggs into the uterine tract for fertilization.
We prepared an education infographic about the cat gestation period.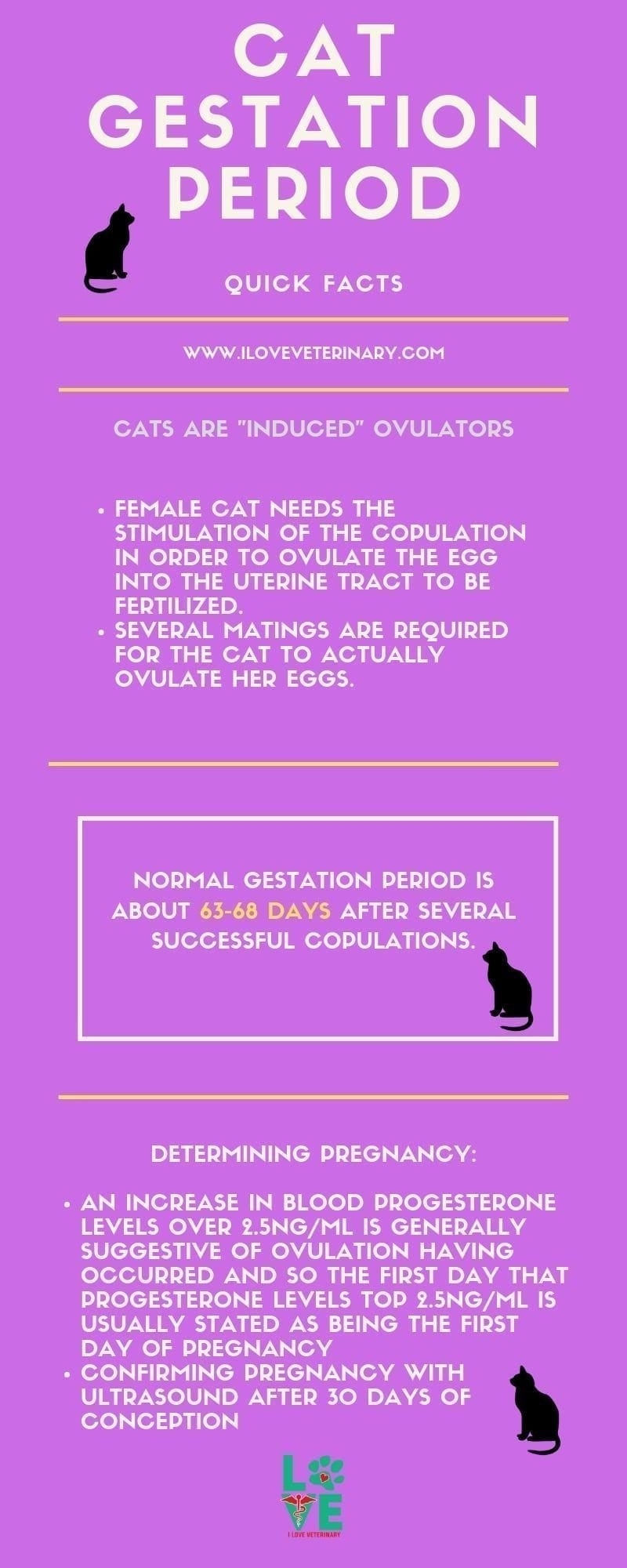 CATS ARE "INDUCED" OVULATORS
FEMALE CAT NEEDS THE STIMULATION OF THE COPULATION IN ORDER TO OVULATE THE EGG INTO THE UTERINE TRACT TO BE FERTILIZED.
SEVERAL MATINGS ARE REQUIRED FOR THE CAT TO ACTUALLY OVULATE HER EGGS.
NORMAL GESTATION PERIOD IS ABOUT 63-68 DAYS AFTER SEVERAL SUCCESSFUL COPULATIONS.
DETERMINING PREGNANCY:
AN INCREASE IN BLOOD PROGESTERONE LEVELS OVER 2.5NG/ML IS GENERALLY SUGGESTIVE OF OVULATION HAVING OCCURRED AND SO THE FIRST DAY THAT PROGESTERONE LEVELS TOP 2.5NG/ML IS USUALLY STATED AS BEING THE FIRST DAY OF PREGNANCY
CONFIRMING PREGNANCY WITH ULTRASOUND AFTER 30 DAYS OF CONCEPTION
If you liked this article, read "Pyometra in cats" on our blog.
Project dedicated to support and help to improve Veterinary Medicine. Sharing information and raising discussions in the veterinary community.