About the clinic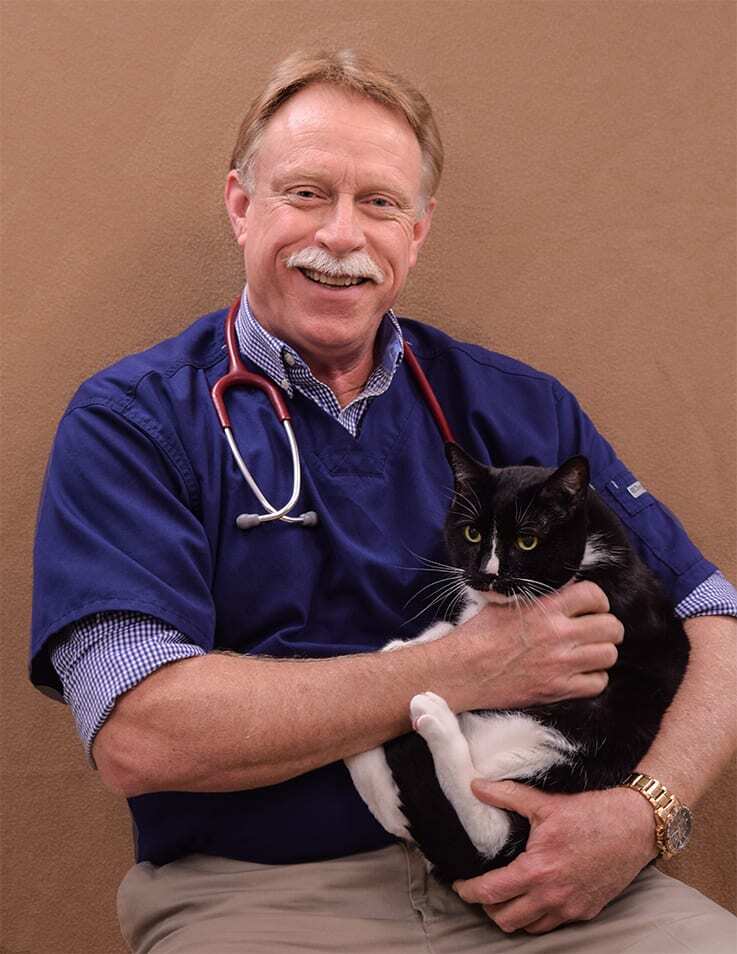 In the early days Robert "Doc" Hauser, DVM, founded La Crosse Veterinary Clinic shortly after World War II in 1948. The land that the clinic was built on belonged to his family. "Doc" thought La Crosse Veterinary Clinic was a simple name that everyone could easily remember. Most of the veterinary work in those days was large animals. The vets spent their days in mobile units, traveling to area farms to see dairy cattle and swine patients. "Doc" Hauser also provided shelter and care to the many stray animals of the outlying townships before there ever was a humane society building.
John Turnbull, DVM, was hired in 1960 and Robert Swingen, DVM, in 1969. Besides being vets, both also became clinic owners. In the '70s, the clinic's practice was still mainly large animals and predominantly dairy cattle. They also started seeing more swine and horses. Pet dogs were also seen, and most of them were hunting dogs. Over the years, the owners have always tried to maintain four veterinarians on staff. There have been about 12 different veterinarians who have practiced here since the clinic was founded.
In 1976, Mark Mattison, DVM, came to join the team, and the clinic was remodeled again that year. Station wagons were the vet vehicle of choice back then for our doctors, and they drove them to patients on farms in La Crosse, Vernon, Trempealeau, Houston, and Winona counties. The veterinarians would all meet up at the clinic in the morning and go out from here.
The 1980s brought the hiring of more staff to accommodate our growing clinic. The practice began seeing more pets and offering more services. In 1982, "Doc" Hauser retired. By the end of the decade the clinic was becoming more centered on our small animal practice. In 1989, we took a huge leap and computerized our client database, invoices, and inventory. Highway 16 was rebuilt, and the clinic became even more accessible to the pet owners of our area.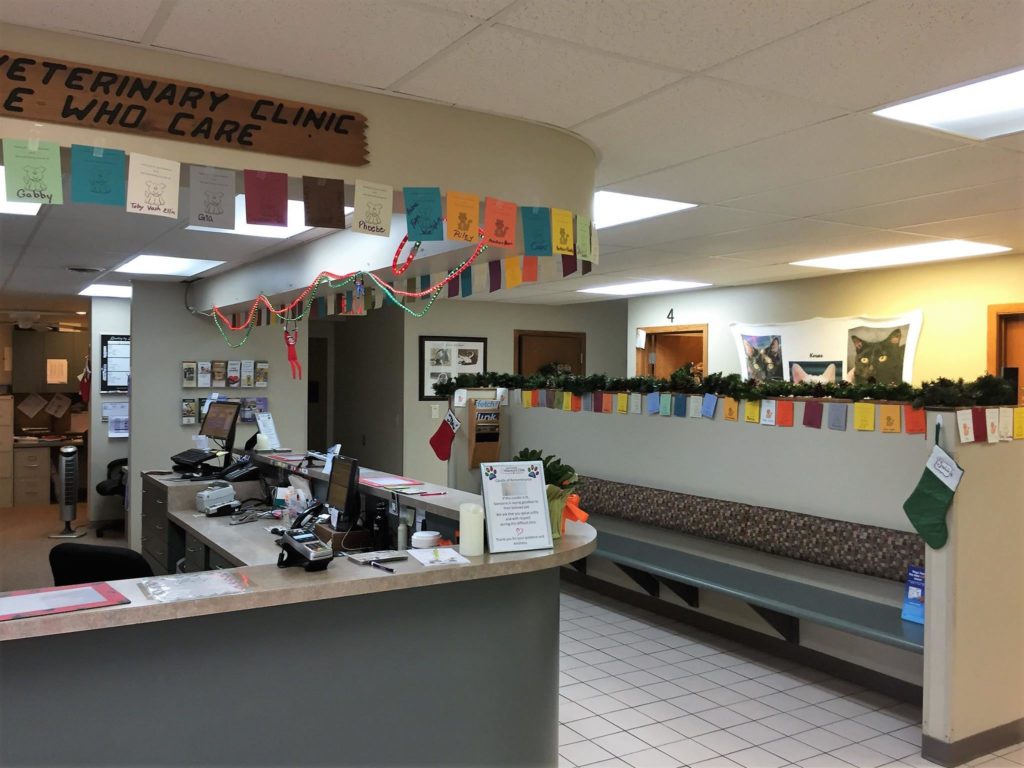 In 1992, John Turnbull retired, and David Mitzelfeldt, DVM, was hired. Later, Dr. Mitzelfeldt also became an owner. By this time, our small animal practice was flourishing. Our large animal business, however, had been gradually declining over the past years due to the loss of many area family farms. Our practice now consisted of 50% large animal and 50% small animal. The doctors were saddened by the loss of their farm clients whose families they had had long relationships with, but they also were brightened by the steady growth of their practice and all the changes that were taking place.
The upstairs apartment has housed many veterinarians through the years. Drs. Hauser, Swingen, and Mattison and their families have all called the clinic home at one time or another. In the years that followed, the apartment was rented to a tenant and is now vacant and used for storage space.
The doctors were now starting to see more small animal patients, so they had to make a few changes to the practice. The building was remodeled to include exam rooms for pets, a pharmacy, and a lobby. The support staff back at the clinic consisted of one receptionist and one maintenance person who also assisted the doctors with patients. Cats and dogs were seen on a walk-in basis; there were no scheduled appointments. In addition, the doctors began doing more spay and neuter surgeries as pet owners became more informed about healthcare. We also expanded our line of prescription diets for pets at that time.
In 1995, the clinic built a huge addition once again to accommodate the needs of our clients and patients. We added a modern surgery suite, surgery prep area, treatment room, another exam room, another bathroom, and a conference room. Most of our older space was also remodeled and reorganized. With this remodel came the addition of new modern lab equipment, a new veterinary x-ray machine and developer, new anesthetic machines, and more staff. In the '90s, we were now capable of offering the very best in veterinary medicine to our patients. Our supplies, lighting, surgical equipment, and kennels were all updated. The clinic became more patient orientated and now had much more elbow room to work in.
In 2005, another small addition was built to upgrade our laundry facilities and isolation ward. In 2008 Jamie Skime DVM joined the staff. In May of 2009, the clinic embarked on yet another remodeling project, updating our exam rooms and lobby. March 1, 2010 marked our very first day ever as a 100% small animal clinic. Anne-Kristi Lee, DVM, joined our team in May of 2010, and after 41 years of service, we wished Dr. Swingen farewell and best wishes for his retirement in June of 2010.
At present, our clinic and staff continues to grow and change day by day to meet the needs of our clients and patients.
About the staff
3 DVMs, 1 CVPM, 1 Office Manager, 1 Supervisor/Bookkeeper, 7 Technicians and 6 Receptionists.
Volunteering and internships possibilities
Currently we don't offer any volunteering or internship possibilities.
Working pace
We see about 30-50 patients depending on the day.
Which events do you celebrate at your clinic?
We celebrate Vet Tech Week and Administrative Professionals Week where we have snacks, treats, party, games, and in the end the staff receives gifts. We also celebrate different holidays with parties, games, spirit weeks, or a simple potluck.
Most common vet cases
We see wellness/vaccination appointments, routine surgeries like spays/neuters/dentals. Emergency cases and sick visits as well.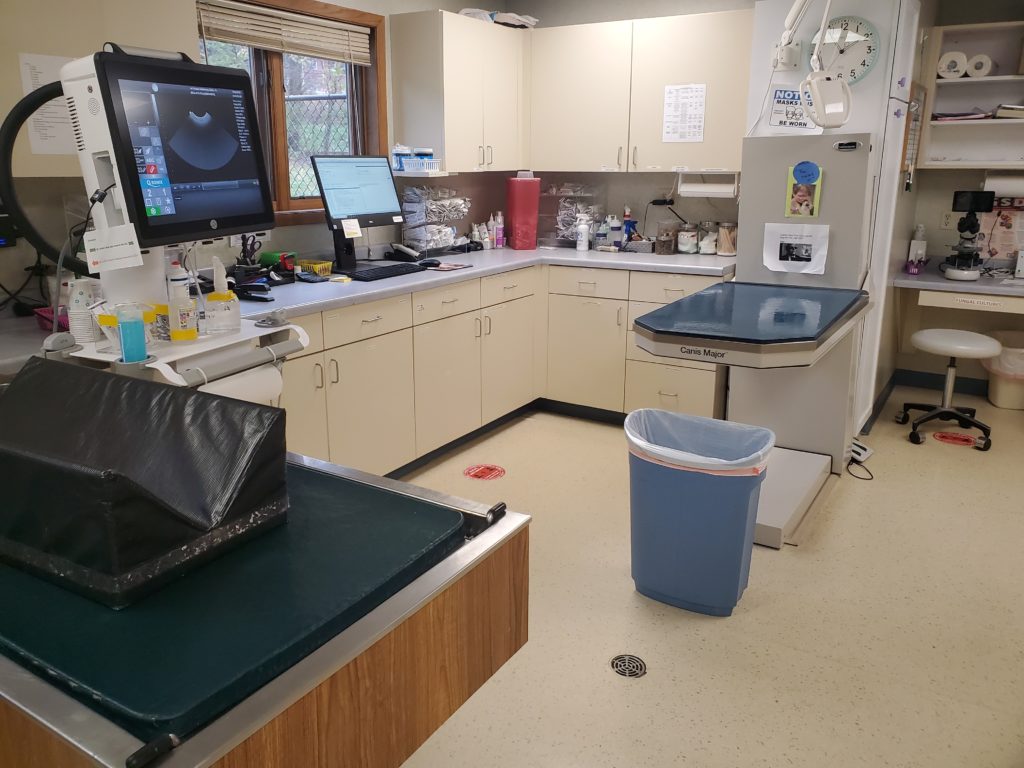 What is the most remarkable case that came to your clinic, one that the whole staff remembers to this day?
One of the DVMs, who is now an owner, was performing her working interview with our clinic. It was just after closing and the client was outside trying to get someone's attention. The client and her car looked horrifying. When we looked in her car to assist, we found her dog laying in the back seat. Apparently, while they were on their evening walk, her dog was hit by a train. The dog did survive and lived a very full and healthy life.
What do you, or the management team do to maintain a healthy work environment?
We all take part in keeping the clinic clean and sanitized. During the day, the commonly touched places are sanitized up to 3 times a day. We all wash our hands multiple times a day after any procedure we do or after handling an animal. Everyone takes part in cleaning up as they go, and the clinic gets cleaned every night. We all wear masks to protect ourselves and our clients. Everyone does their part to help everyone stay healthy.
Do many of your clients take advantage of pet insurance?
Yes, we have a lot of clients that use pet insurance.
Project dedicated to support and help to improve Veterinary Medicine. Sharing information and raising discussions in the veterinary community.